Summary: Coming Soon From Europe: The Next Global Financial Crisis
The EU banking system never fully recovered from the 2008-09 Credit Crisis.
Three banks with significant global exposure could easily fail, setting off a new financial crisis.
These banks are too big to fail, but they will not be bailed out, they will be bailed-in instead.
The European banking system has begun a rapid downward spiral and is likely to be entering crisis mode soon. Europe's banks are weak and have been so for years, never having significantly recovered from the Credit Crisis in 2008-09. Many of its major banks may even be insolvent, although they haven't been illiquid up to now, and it is liquidity (from the largess of central banks) that allows banks to continue to operate. Time seems to be running out though, and the day of reckoning for EU banks seems to be approaching.
10-Year Stock Performance of EU Banks, U.S. Banks and S&P 500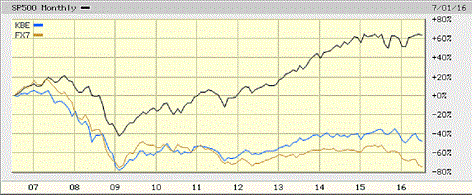 Black line – S&P 500, Blue line – U.S. banks, Gold line – EU banks
Banks and Wall Street firms are somewhat unique among all companies in that they must maintain credibility among their peers. The loss of ability to perform financial transfers means instant death for them. Bear Stearns folded overnight in March 2008 because of this, even though it was hurrying to release its excellent first quarter earnings. Earnings, book value, PE and other fundamental measures of a company's strength become instantly meaningless under such circumstances. Reading the market tea leaves therefore becomes critical if a possible crisis is in the air. Investors will abandon a bank's stock long before the crisis comes to a head. Until recently, bondholders were more secure because they were first in line to be paid in case of a bank failure. This is no longer the case in Europe as of January 1, 2016.
At the beginning of this year, the EU implemented the Bank Recovery and Resolution Directive (BRRD) which put bondholders and depositors of over €100,000 on the hook when a bank requires saving and turning what had previously been a bailout into a bail-in. The rules did not apply to the UK even before the Brexit vote. Creditors have to endure losses of 8% of total holdings before any official state aid is offered. This approach was first used in the banking collapse in Cyprus in 2013. Most of the largest depositors there were Russians, so the EU didn't fear voter outrage when it confiscated their money (U.S. investors should take note).
Bail-ins already began before the new BRRD went into effect. In November, savers lost out in the failure of four small Italian banks. In December, subordinated bondholders along with stockholders were wiped out in a rescue of Portuguese bank Banif, SA. In April, the first test of BRRD took place in Austria. The bail-in of Hypo Alpe Adria not only wrote down subordinated debt to zero, but senior creditors had to take a 54% haircut. Who would want to invest in bank debt in the EU under such circumstances? The future ability of EU banks to raise capital is consequently now severely impaired.
Many EU banks are troubled, the three with the most immediate risk and biggest global exposure are: Deutsche Bank (NYSE:DB), Credit Suisse (NYSE:CS) and UniCredit (OTC:UNCFY). Their stock prices all began their most recent declines in 2014 and all are trading below their Credit Crisis lows in 2009 (a time when the global financial system was in complete chaos). Deutsche Bank's 2007 high was over $125. It has recently traded at $12.50. Credit Suisse was close to $80 at its peak in 2007, but has fallen to just above $10 (its low price in 2009 was almost twice as much). UniCredit was around $50 in 2007, but its current low has been $1.70. It's not the only major Italian bank that is now trading for pennies.
A collapse of Deutsche Bank would be the most serious of the three according to the IMF, which stated that the bank "poses the greatest systemic risk to the global financial system." Deutsche Bank failed the U.S. Fed's stress test this year and last. Credit Suisse poses the third greatest risk. Deutsche Bank is sitting on a mountain of derivatives, estimated to be as high as $75 trillion. Deutsche Bank's contingent convertible bonds (COCO), which are used to raise capital, already had a precipitous slide in February (falling 21% in just seven days). They are now approaching the same low again.
Deutsche Bank CoCo Bonds Trading at a Big Discount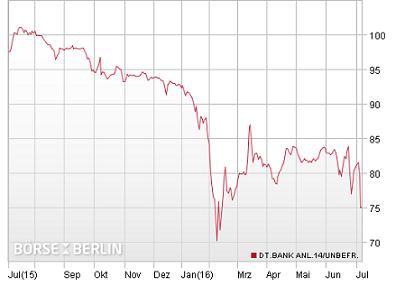 There's likely to be some rupture soon in the EU banking space. It came close to a systemic collapse in February, but the problems that precipitated that go back all the way to the Credit Crisis in 2008-09. The fundamental issues were never fixed and this is clearly indicated by the inability of the bank stock prices to get back to anywhere near their previous highs. Instead, they are now in some cases at lower lows than they were during the depths of global financial dysfunction eight years ago. Negotiations have already been going on for months for a rescue of Italian banks, but no agreement has been reached. Monte dei Paschi there is teetering and could go under at any time.
All major EU banks are considered too big to fail, so they will all be rescued by the monetary authorities if necessary. The first major EU bank with global exposure likely to need a rescue is either Deutsche Bank, Credit Suisse or UniCredit. This time around investors and depositors will pay much more for those rescues than they did in 2008-09. Consequently, all EU bank stocks and bonds should be avoided. Investors should at the very least lighten up on European stocks, especially if they own country ETFs. UK bank and financial stocks are just as vulnerable as there are additional problems there (five property funds have already suspended redemptions since the Brexit vote) as well as those with their banks. Traders could short the MSCI Europe Financials ETF (NASDAQ:EUFN) and well as DB and CS.