The Consumer Is Maxed Out – A Theme To Watch In 2018
via Eric Basmajian
Summary
The savings rate reached multi-year lows at only 2.9%. This is a very bad sign for the health of the consumer.
Credit card debt is rising, and personal interest expense is near a record-high.
Subprime auto loan defaults are starting to soar, noted by Bloomberg.
Credit card charge-off rates are on the rise at major credit card providers.
The Health Of The Consumer
Each month, the Bureau of Economic Analysis releases the report on Personal Income and Outlays. This is one of the most important and detailed reports that come out each month as it contains personal consumption expenditures, which represents ~70% of total GDP, as well as income levels, savings rates, and inflation.
Personal Income, the broadest measure of income, increased to 3.84% year-over-year growth, up from 3.37% last month and 1.51% one year ago. Total personal income includes wages and salaries, interest collected, government transfer payments (entitlements), and all other sources of income.
There has been a fairly material acceleration in Personal Income growth, highlighted by the green box. The growth, however, is largely attributed to inflation. The figures on real personal income growth (inflation adjusted) are not quite as promising.
Total Personal Income Growth: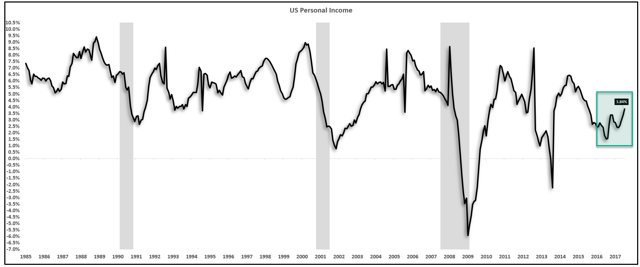 Source: BEA
Inflation rose for most of 2017. Inflation is being pulled higher by energy prices because the rate of growth in core PCE (inflation ex. energy and food) is still muted.
Disposable personal income is equal to total personal income minus personal taxes. Real disposable personal income growth (inflation adjusted) only increased to 0.88%.
After taxes and inflation, the total income in the economy is up 0.88% per capita from one year ago.
Real Per Capita Disposable Income Growth: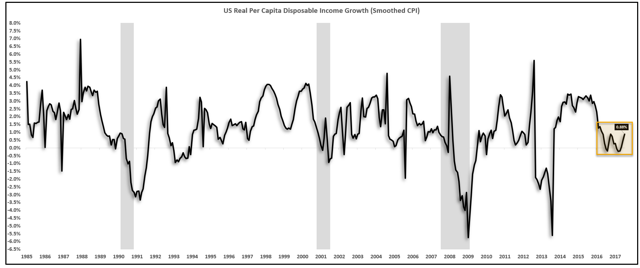 Source: BEA
You can see how the rise in 2017 is considerably less in the inflation-adjusted chart compared to the first nominal chart.
Core PCE (inflation) remains muted at 1.48%, still well below the target for the Federal Reserve. If the Federal Reserve continues to raise rates with inflation so depressed, the yield curve should continue to flatten. Long-term interest rates will not rise without a material rise in inflation. Long-term bonds (TLT) should continue to perform well in 2018.
Core PCE (Inflation) Year over Year Change: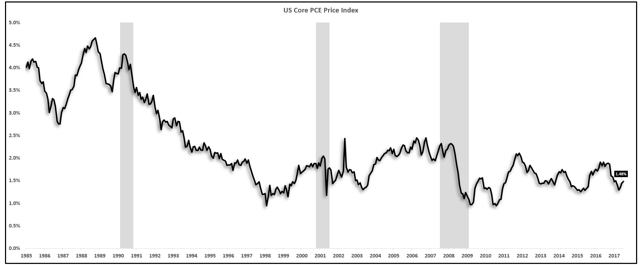 Source: BEA
A contributing factor to the weak inflation is the trend in income growth. One chart I look at frequently due to its reliability and predictability of the economic cycle is real personal income per capita minus government transfer payments. This is an important metric to look at because it filters out government programs from the income number and shows how strong the underlying economy is.
The income from government transfer payments is never guaranteed and may be cut in the future. There is already talk in Washington after passing the tax bill that the next thing to reform is entitlements. While it is a necessity, the hit to total personal income and consumption will be dramatic.
The chart below takes the five-year annualized growth rate of real personal income per capita minus transfer payments.
As the chart shows, there are clear peaks in each economic cycle and wage growth moves in a cyclical fashion that mirrors the business cycle.
Real Personal Income – Government Transfer Payments Growth (5 Year Annualized Rate (%):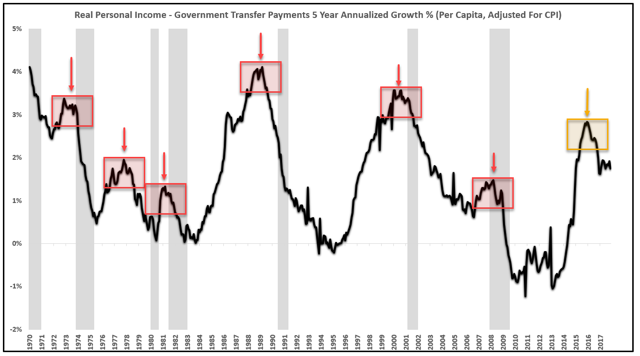 Source: BEA
The peak for this cycle has already been registered, noted by the yellow box. It is always possible for income growth to accelerate materially, but the historical evidence suggests that the peak in income growth is behind us, and we will start to see decelerations in income growth as we are near the end of a 100+ month economic expansion, the second longest on record.
The consumer is already completely maxed out in terms of spending. The personal savings rate hit a new low, down to 2.9%.
Personal Savings Rate: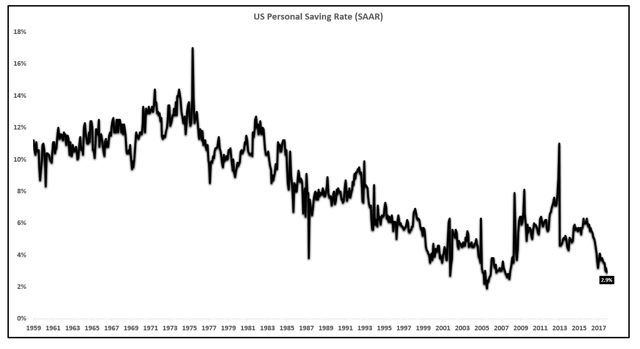 Source: BEA
There is essentially no room for the savings rate to go much lower, so consumption has to go down or credit has to increase in order to maintain consumption growth.
Personal Savings Rate: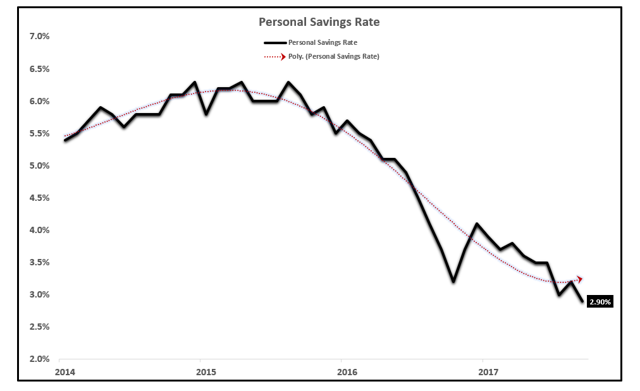 Source: BEA
If the savings rate goes up, consumption must fall. Consumers are limited in the amount of credit they can accumulate. If consumers are reaching for credit and are fully maxed out, and that has equated to flat consumption growth of 2.7%, that is a very weak underlying economy.
Consumption Growth: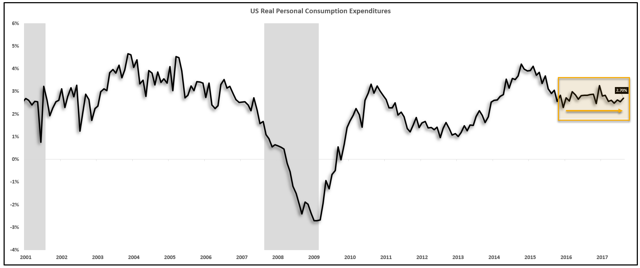 Source: BEA
Credit card growth has exploded, nearly doubling over the past several months. As the savings rate came down, credit card growth grew. That is how we have maintained smooth consumption growth in 2017.
Credit Card Debt Growth: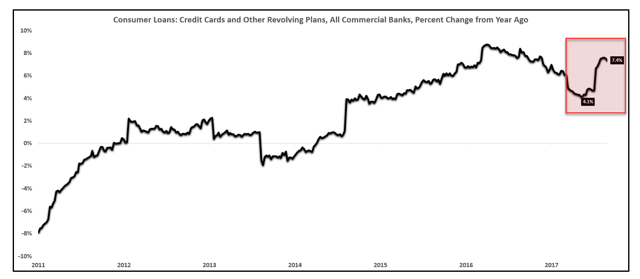 Source: BEA
The consumer has no excess income, evident by the savings rate and credit card debt is rising. Personal interest payments are nearly as high as 2007.
Personal Interest Payments (Total):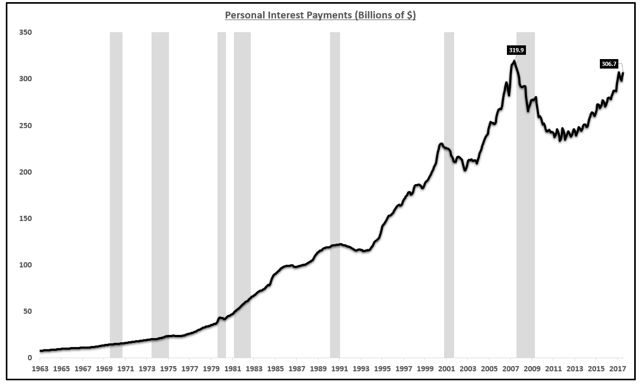 Source: BEA
This issue is also visible in the financial statements of credit card companies. The charge-off rate for Discover Financial Services (DFS) has risen from 2.5% to 3.1%, a new 52-week high.
Discover Financial Services Net Principal Charge-Off Rate: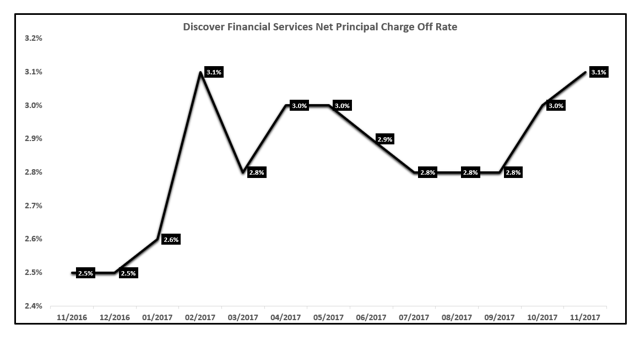 Source: Company Filings
Synchrony Financial (SYF) is also experiencing rising charge-off rates. The charge-off rate at Synchrony Financial is quite high at 5.9%.
Synchrony Financial Net Principal Charge-Off Rate: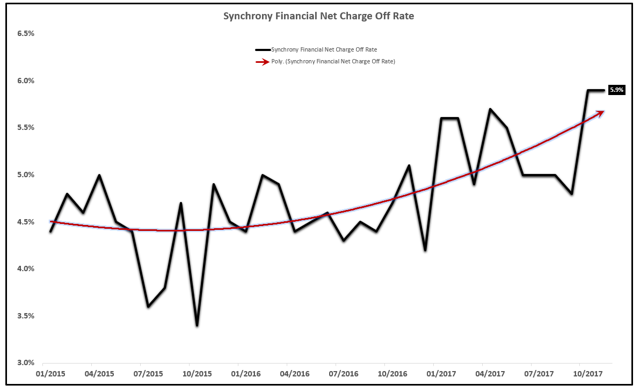 Source: Company Filings
Due to the deteriorating consumer trends and the confirmation that can be found in the above two financial statements, I think there should be a consideration for these two names on the short side. I do not want to sell all credit card companies. I only want to sell companies that have credit risk. Visa (V) and MasterCard (MA) act more like toll roads, collecting a fee on each swipe of a credit card. These are strong businesses that have limited credit risk.
Companies such as Discover, Synchrony Financial, Capital One (COF) and to a significantly less extent, American Express (AXP) have higher credit risk. If the trends in consumer behavior and charge-off rates continue, these companies will underperform in 2018.
The deteriorating credit conditions can be seen beyond credit cards. Bloomberg published an article that outlined the dramatic rise in sub-prime auto loan delinquencies.
Sub-Prime Auto Delinquency Rate: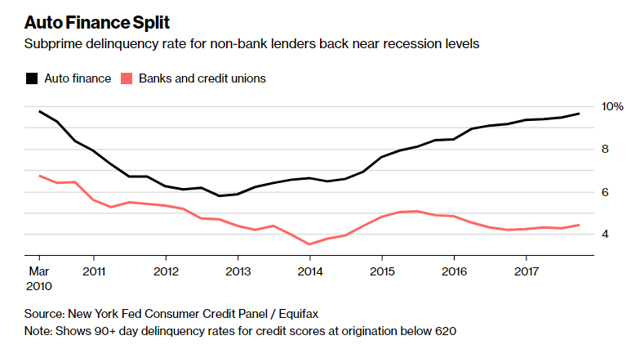 Source: Bloomberg
There are many indicators that are strongly suggesting the consumer is running out of steam and consumption growth will be weaker in 2018 than in 2018. The economy, despite the tax cuts, is likely to slow in 2018, exacerbated by aggressive Federal Reserve policy.
A quiet issue is the increasing share of the total income that comes from government transfer payments. Currently, the government accounts for 17% of the total personal income through transfer payments and social programs.
This number is going to increase dramatically over the next 10 years as well as the social security population increases.
Transfer Payments As A % Of Total Personal Income: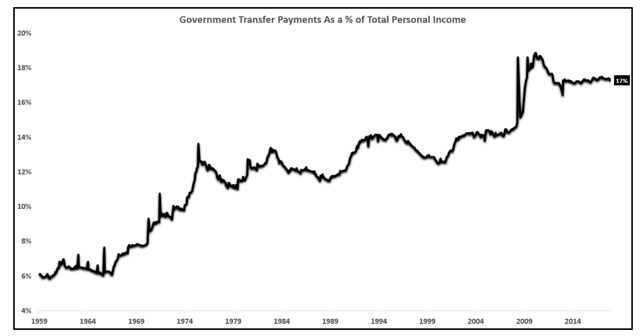 Source: BEA
Breaking down the transfer payments shows social security to be the largest, followed by Medicare and Medicaid.
Transfer Payments As A % Of Total Personal Income: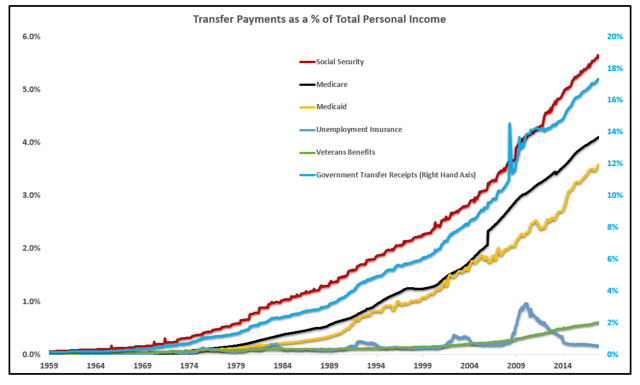 Source: BEA
The consumption economy is increasingly relying on government transfer payments that are uncertain and may be cut. If that does occur, there will be a massive reduction in total personal income and consumption will tumble as a result.
Real personal income after government transfer payments is below 2% on a five-year annualized basis. The trend in income growth has peaked and is rolling over. Credit card debt is rising as the savings rate is falling indicating that consumers are funding consumption with debt, not income. Debt-fueled consumption is temporary because a corresponding amount of consumption must be foregone in the future. Government transfer payments, a target of Washington politics, are growing to an ever-increasing share of total income. This is not sustainable. There are many signs the consumer is tapped out. Credit card companies such as DFS, SYF, and COF are beginning to look like an interesting macro-thematic short idea. I also believe iShares 20 Plus Year Treasury Bond ETF (TLT) is going to be a strong performer in 2018 as short-term rates rise and long-term rates fall due to weak growth and inflation.