More On Hurricane Harvey – Energy Markets, Equities Impacted
Summary
Historic move in gasoline as more refineries shut down.
Which stocks normally react to devastating hurricanes.
It's almost sacrilegious to talk about investing based on Hurricane Harvey, given the uncanny death and destruction that has hit the area. Our hearts go out to the thousands of families that have been affected by this. For more information how you can make a donation, please refer to the information at the bottom of the page.
If you want to see and hear a detailed analysis how we forecasted Hurricane Harvey very early and its impact on global markets, please click here.
The cooling eastern Pacific Ocean, a warm Atlantic and a lack of African dust for the first time in 5 years are main factors influencing the active hurricane season. The wet west African weather that is spawning more tropical waves, is also one reason why global cocoa (NIB) production has improved, helping to pressure cocoa prices some 25% the last 6 months.
Why have natural gas prices (UNG) not reacted to Harvey? Its pretty simple–demand destruction from the cool August weather and tens of thousands of people without power has offset any short term closing of oil rigs in the western Gulf of Mexico.
Frankly, I hate being right about a weather event that is now called a calamity. But, because of popular request, I am likely going to have a much more detailed paid service on Seeking Alpha for subscribers that want to know more about how to invest specifically in stocks and ETFs on weather.
For example, here are some futures and equities that have responded to Hurricane Harvey. Those who foresaw this storm last week, had the potential to make profits on these particular market positions. For example, Home Depot (NYSE: HD) and Lowe's (NYSE: LOW) always reacts positively after hurricane damage. This is because of the need for hundreds of thousands of people to rebuild their homes and procure home supplies. Another stock, Valero (NYSE: VALE) is a major refinery in the Gulf. It has rallied because the refinery itself has not incurred a lot of damage, but has benefited from the spike in gasoline prices. Some other notable companies whose stock price benefits from hurricane damage are Generac (NYSE: GNRC), Sanchez Energy (NYSE: SN) , Archrock (NYSE: AROC) and Lumber Liquidators (NYSE: LL)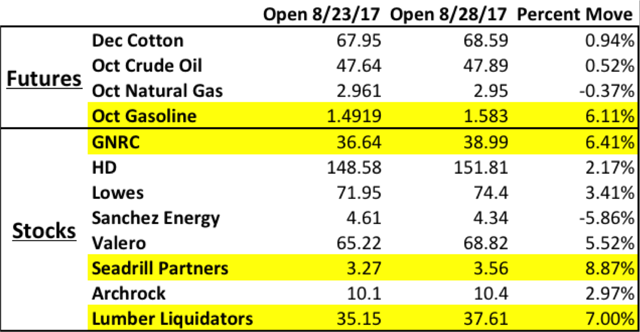 The moves of markets on Harvey were as of two days ago. In particular, gasoline prices have soared another 7-10% as of this writing. The tropics are very active and there will be various other trades through the fall season. Whether gasoline prices continue to rally will be based on if there is irreversible damage to refineries; something that is difficult to say. Usually, a situation like this is short-term in nature, but this is not an usual event, but one in 200 years. For more information about hurricanes and our predictions a few weeks ago, please click here.
More Hurricanes On the Way
Another hurricane should be approaching the tropics within 8-10 days. Orange juice to the energy market and many stocks will be watching. Overall, while September is often a down month in the stock market and many of Trump's intended policies for tax reform, etc. may well NOT come to fruition, many of the stocks listed above could continue to be supported on breaks due to my forecast for an active hurricane season.