One Nation, Under the Weight of Crushing Debt
via TANVI MISRA
Not much unites Americans these days, except, perhaps, past-due bills. A third of American households are currently in debt, and in the second quarter of 2017, they owed a record $13 trillion altogether.

In a new interactive map, researchers at the Urban Institute visualize how this massive debt burden varies by geography. The map is based on 5 million records sourced from a major credit bureau, and shows each county's share of households that have their debt in collections. The darker the color, the higher the concentration of people who haven't been able to pay what they owe, from credit card and medical bills, to parking tickets to child support.

After the institutions these people owe money to send their case to a collections agency, their financial situation can go even further downhill: their credit scores can suffer, jeopardizing, among other things, the ability to borrow money, rent or buy homes, and be eligible for certain types of jobs. In other words, having debt in collections has longterm and far-reaching effects, explains Signe-Mary Mckernan, co-director of the Center on Labor, Human Services, and Population at the Urban Institute.
The upshot: Not a single county in America is debt-free, according to this UI map. The extent of the borrowing, however, is dramatically different between states. Louisiana, for example, has 10 times more households with debt in collections (30 percent) than Minnesota (3 percent). In general, the South appears to be drowning in debt, with shares higher than 50 percent in places like Deaf Smith County in Texas and Carter County in Kentucky.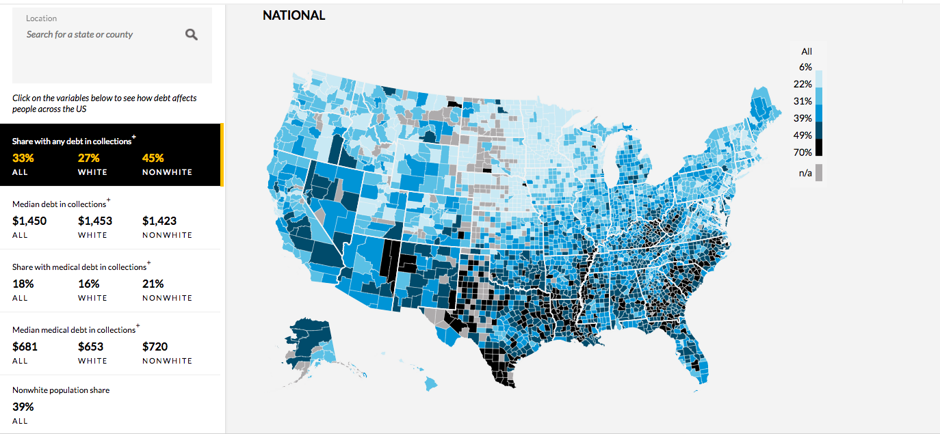 This discrepancy is explained by several factors—some to do with the people who live in these places and others with the policies that local governments have enacted. The South, we already know, has a higher poverty rate than the rest of the country, which means more people unable to pay for, say, a costly trip to the emergency room.

Many Southern states also have higher concentrations of black households, which are more likely to be saddled with medical, student, and credit card debt. That's partly because of generational wealth disparities that go back all the way to slavery.

The state health care policy can play a role, too. A previous analysis by the Urban Institute focused on medical debt, and found one reason it was so concentrated in the South was because the uninsured rates tended to be higher. While that changed to some extent with the Affordable Care Act, many Southern states chose not to expand Medicaid. On the other hand, Minnesota—which has the lowest rates of debt—has one of the most generous Medicaid programs in the country, and a more inclusive and higher-quality health care system.

Congress has already passed a bill that might make it more difficultfor states to fund health care at a local level. In addition, it's planning to make cuts to Medicaid, Medicare, and other welfare spending. According to the Consumer Financial Protection Bureau, money owed in medical dues makes up half of all debt in collections. With the changes Congress is proposing, those types of bills are likely to keep piling up.