U.S. Small-Cap Stocks Will Continue To Underperform
via Shang-Shun Chou
Though small-cap stocks posted positive returns in the past year, they underperformed compared to large-cap stocks.
Rising volatility and a flattening yield curve are two headwinds facing small-cap stocks. Relatively weakened credit fundamentals will also amplify the impacts.
Thus, small-cap stocks are currently unattractive. Investors should switch from small-cap stocks to large-cap ones.
The Russell 2000 Index lagged behind the S&P 500 Index in 2017. Spectacular returns on heavy-weighted tech giants like Facebook (NASDAQ:FB), Apple (NASDAQ:AAPL), Amazon (NASDAQ:AMZN), Netflix (NASDAQ:NFLX) and Google (NASDAQ:GOOG) on the S&P 500 cannot completely account for the differences between the two indices. Small-cap stocks seem to benefit less from tax cuts and deregulation measures than anticipated, which begs the question: Will small-cap stocks continue to underperform? I strongly recommend that investors lower small-cap positions due to heightened volatility, a flattening yield curve, and worsened small-cap credit quality.
Rising market volatility hurts small-cap stocks because they are perceived as riskier and illiquid. That is why small-cap stocks often perform poorly in high volatility periods and vice versa (Chart 1). Unfortunately, if history repeats itself, we may see volatility increase in a rate hike environment (Chart 2). Unless inflation reverses course, the Fed will continue raising rates in the coming months, and volatility will increase accordingly. High volatility will cause investors to demand more price concessions before buying small-cap stocks.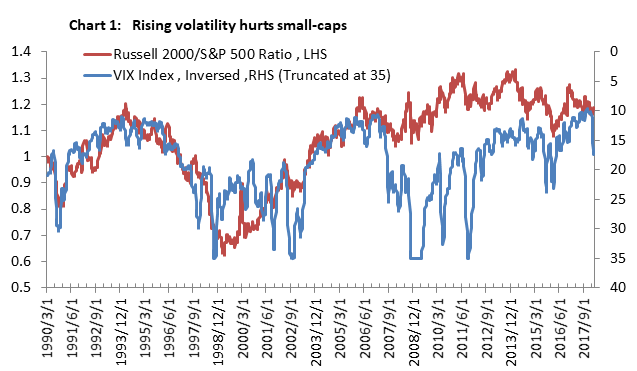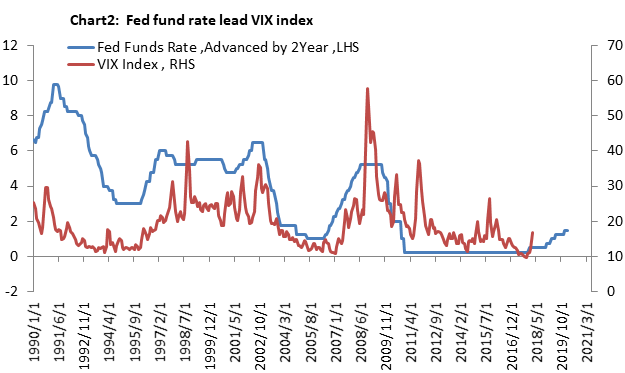 Small-cap stocks tend to underperform relative to large-cap stocks when the U.S. yield curve flattens (when the spread between the short- and long-term interest rates narrows) (Chart 3). Because banks pay short-term interest rates on deposits and use the proceeds to earn long-term interest rates on long-maturity loans, with the U.S. yield curve flattening, banks have less incentive to lend more to companies. In the current environment, with rates rising, the yield curve will flatten further. Compared to large caps, it is more difficult for small caps to obtain loans to finance operations, especially when banks cut lending.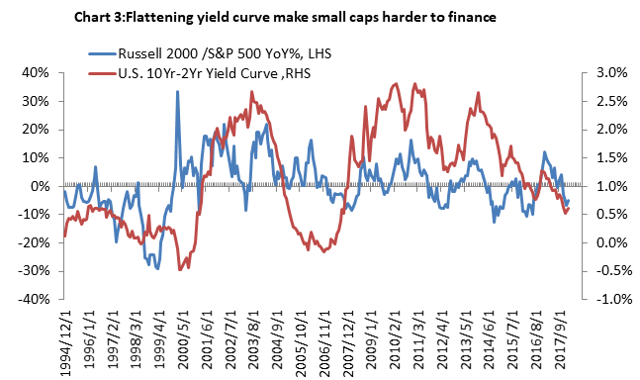 Small caps are more vulnerable to economic shocks and liquidity drains due to weakened credit fundamentals. Since 2010, the net debt/EBITDA ratio of the Russell 2000 has been on the rise; however, that of the S&P 500 has been on the decline (Chart 4). When faced with a recession, small caps are more unlikely to meet debt obligations. We are in the late-cycle phase of expansion; the economy will run out of steam sooner or later. During market downturns, companies with high financial leverage come under selling pressure.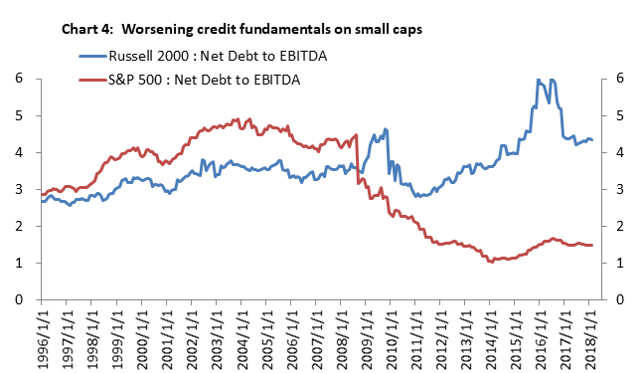 The NFIB Small Business Optimism Index reached a 30-year high in February, but investors should not be optimistic about small-cap performance on the back of elevated volatility, funding constraints, and credit concerns. Equity investors should avoid small-cap ETF positions, such as iShares Russell 2000 Value ETF (NYSEARCA:IWN), SPDR S&P 600 Small Cap ETF (NYSEARCA:SLY), and Vanguard Small Cap ETF (NYSEARCA:VB). In addition, the vast majority of high-yield corporate bonds are issued by small-cap companies, so bond investors should take a conservative view toward high yield bond ETFs — such as iShares iBoxx $ High Yield Corporate Bond ETF (NYSEARCA:HYG) and SPDR Bloomberg Barclays High Yield Bond ETF (NYSEARCA:JNK).