If You're Not Cautious On Housing, You Should Be…
Summary
via Eric Basmajian
Housing starts and building permits data was weaker than expectations.
Housing data is beginning to decelerate at a faster pace.
Housing starts in the south, the largest region by volume, was negative year over year. A major red flag.
Overview:
The April New Residential Construction report was recently released by the Census Bureau.
This report provides the regional and total data on the number of new houses that have been authorized by building permits and the stage of completion for each new house. This is a useful data series in measuring the health of the new home market and the new home construction sector of the economy.
The report largely missed expectations across the board. This decline should have been expected as I've outlined in many previous articles, yet many pundits are calling this a "surprise" decline. I'll summarize the report and show its weakness in the charts below.
All data is from the United States Census Bureau.
New Residential Construction Report:
Total Housing Starts: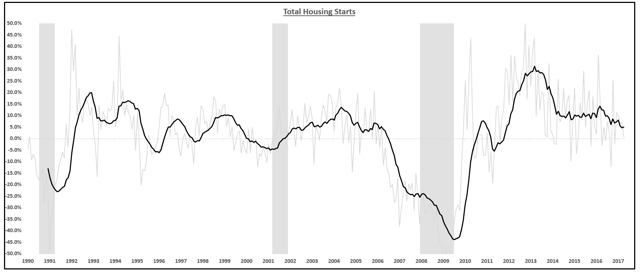 Year-over-year growth in total housing starts was below 1%, and the trend has been moving lower since late 2014. While growth was declining for many months, the growth rate was still high enough to propel the housing market forward. Now, the growth rate is below 1% and three years off its peak.
Total Building Permits: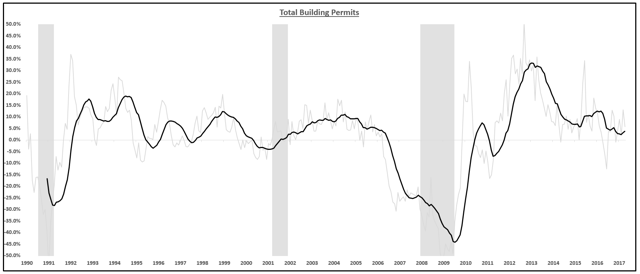 Building permits growth, a leading indicator of future residential construction, decelerated year over year as well. Similarly, the growth rate in new permits peaked in 2014 and has been falling for much of the time since then.
Single Family Home Starts: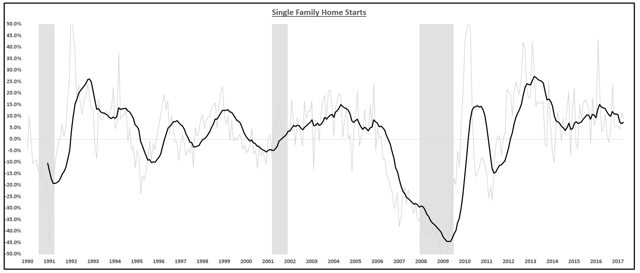 Single family home starts, the largest component of total housing starts, is showing slightly better growth than the aggregate but still well off its peak and trending lower.
Single Family Building Permits: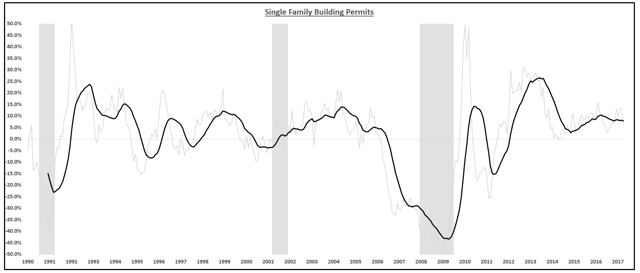 Single family building permits, a leading indicator, showed a very sharp drop year over year, falling from 13% to 6% in just one month.
Total Housing Units Under Construction: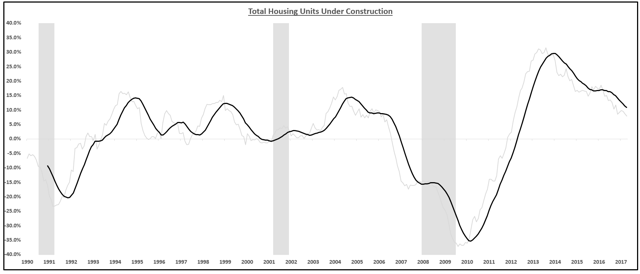 The growth rate for houses under construction has been going straight down. The decline in growth rate has been getting steeper as well.
South Census Region:
The South is by far the largest region for new residential construction, so I will graph the same metrics as above but for the South census region.
South: Housing Starts: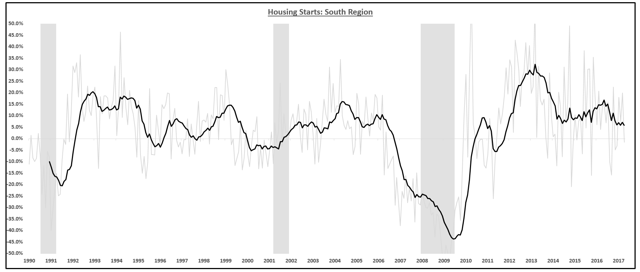 South: Building Permits: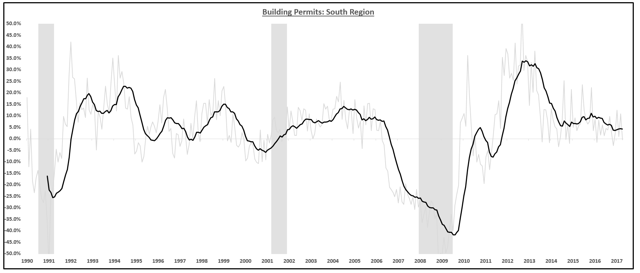 South: Housing Under Construction: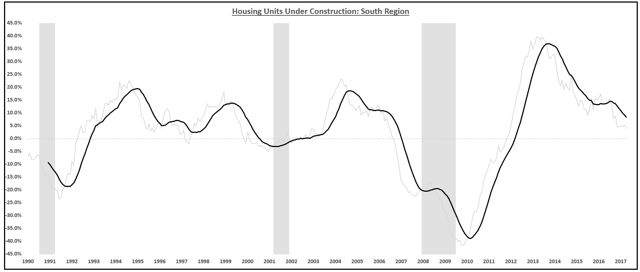 South: Units Authorized But Not Started: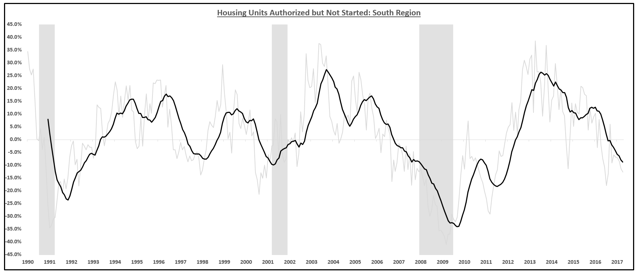 The data across all the categories of this report are showing dramatically slowing growth rates. Some growth rates are negative.
Takeaway:
This data series is very important. It is hard data and is not subjective. It is empirically true as demonstrated above that the growth in the residential construction market is decelerating in the best scenarios and outright negative in other scenarios.
The evidence does not support the "housing is coming back" thesis. In fact, it supports the thesis that the housing peak is behind us.
For clarification, this is not a housing crisis forecast. It is a series of data that shows the peak in housing growth is in and to buy into housing/housing relating stocks is buying into a sector that has growth slowing and trending towards and soon to be below zero.
If you are not cautious on housing, you should be.